TASER International has received an order for 800 TASER® X2™ Smart Weapons to outfit all patrol members of the Georgia Department of Public Safety. This order was received and anticipated to ship in the first quarter of 2017.
The Georgia Department of Public Safety oversees the day-to-day operation of the Georgia State Patrol (GSP), Capitol Police and the Motor Carrier Compliance Division (MCCD).
GSP troopers investigate traffic crashes and enforce traffic and criminal laws on the state's roads. Capitol Police officers prevent and detect criminal acts, and enforce traffic regulations throughout Capitol Hill.
MCCD officers conduct safety inspections of commercial motor vehicles and inspect highway shipments of hazardous materials.
"Wisdom, Justice and Moderation" has been the motto of the Georgia State Patrol since its inception in March 1937.
TASER X2
A dependable piece of law enforcement technology, the TASER X2 incorporates agencies' most requested features such as a backup shot, dual lasers, and a warning arc to protect life in the field.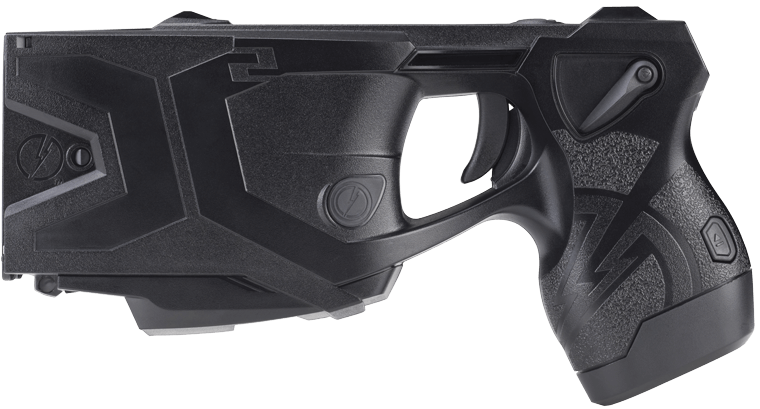 TWICE THE CONFIDENCE
The TASER X2's backup shot removes any need to manually reload and improves safety and performance in the case of a missed shot or clothing disconnect.
LASER-FOCUSED
Dual lasers eliminate any aiming guesswork and enhance accuracy by allowing the user to see exactly where the top and bottom probes will enter a target.
ARC OF JUSTICE
The warning arc increases voluntary surrenders and helps stop conflicts from escalating. It issues an audible warning directly over the front of live cartridges.
"All of our initial field uses of the X2 resulted in voluntary surrenders upon display of the warning arc… This was dramatically different that our previous experience with the X26."
— Kevin Sailor, Westminster Police Department
(Warning: See the TASER X2 in Action & being deployed at a human target in Super Slow Motion. Courtesy of The Slow Mo Guys, TASER International and YouTube)
Cross-connect improves overall effectiveness by increasing the amount of electricity delivered throughout the muscle mass, resulting in a greater level of incapacitation without supplying an additional charge current.
SMART WEAPON, SMART CARTRIDGE
The static-resistant TASER smart cartridge is more accurate and durable than a standard cartridge, which increases reliability and lowers the risk of accidental discharge.
THE FUTURE IS NOW
Much like the shift from the revolver to the semi-automatic, the days of the single-shot electrical weapon will soon be a thing of the past. And with dual lasers, cross-connect, and a more accurate smart cartridge, the future of TASER technology has arrived in the form of the X2.
"We are passionate about technology that makes the world a safer place,"  says Rick Smith, CEO and co-founder of TASER International.
"Our mission is to make a TASER Smart Weapon available to every officer, so they have the best options available to avoid injury or death. We commend the Georgia Department of Public Safety in their continuing paths to a world where every officer has the best technology and training to minimize the chances of a deadly encounter," concluded Smith.
 

TASER International makes communities safer with innovative public safety technologies. Founded in 1993, TASER first transformed law enforcement with its electrical weapons.
TASER continues to define smarter policing with its Axon brand which includes a growing suite of connected products and services from body cameras and digital evidence management tools to mobile apps.
More than 177,000 lives and countless dollars have been saved with TASER's products and services.