By Cpl. Dave Flores, Marine Corps Air Ground Combat Center Twentynine Palms
In 1982, the Vietnam Veterans Memorial Wall was built and dedicated to those who served and died in the Vietnam War.
While attending the dedication in 1982, a group of artists felt the positive power of The Wall and felt it should be shared not only in Washington D.C., but across the country.
Sitting at about half the size of the actual Vietnam Veterans Memorial Wall, the two replicas began their journey in Tyler, Texas in 1984.
Today, the walls travel across the country from April to November, to pay tribute to those who made the ultimate sacrifice.
The city of Desert Hot Springs hosted The Moving Wall at their local Mission Springs Park from June 22 to June 26, 2017.
During the Vietnam War more than 58,000 service members, both men and women, were either killed or deemed missing in action.
The Wall has the names of those men and women etched onto a reflective stone, so visitors can not only see the names, but see themselves, reflecting on the lives of the people who fought and died to keep them safe.
(Learn More. Courtesy of VVMF and YouTube)
Bringing The Wall to communities across the country allows the souls enshrined on the Memorial to exist once more among family and friends in the peace and comfort of familiar surroundings.
It provides thousands of veterans who have been unable to cope with the prospect of facing The Wall to find the strength and courage to do so within their own communities, thus allowing the healing process to begin.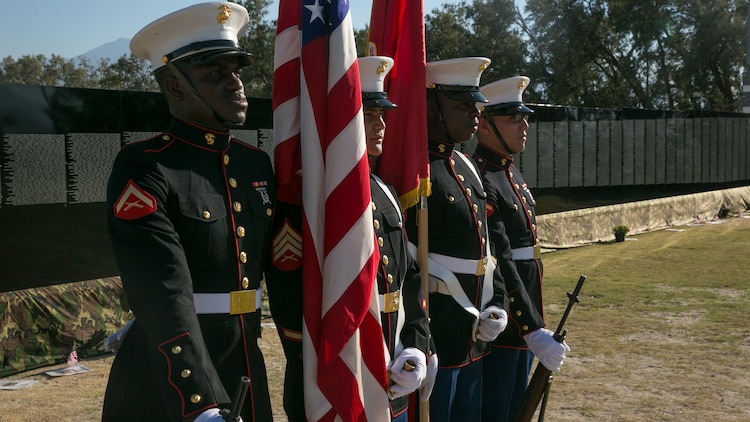 At the commencement of the program, Headquarters Battalion Color Guard posted their colors at the Moving Wall opening program and, the keynote speaker, retired Sgt. Frank Orzio, pastor, Wounded Warrior Ministry Project, addressed those in attendance.
"In this time of remembrance we must hold close to our hearts our fallen warriors, keep in our mind our prisoners of war and missing in action service members who have become a shadow of a memory," Orzio said.
"We see these men and women and realize, once again, how much we owe them and how much they have given."
Following the program, local community members were able to visit the wall and pay their respects.
Also local Vietnam veterans attended to honor their fallen comrades, and pass knowledge to the younger generations at hand.
On June 26, Desert Hot Springs hosted the closing ceremony for the Moving Wall.
It will now move onto a different location to spread the same spirit of positivity; the same feeling of gratitude and respect that those artists felt from the dedication of the original wall in 1982.