By Weather .com
Story Highlights
Category 3 Matthew is now bearing down on the Bahamas.
Hurricane watches and warnings are posted for a swath of eastern Florida and Georgia.
Matthew will likely be the first hurricane strike in South Florida since Wilma.
Matthew will then flirt with the coasts of Georgia and the Carolinas this weekend.
However, the threat to the Northeast has been reduced.
Hurricane Matthew is now forecast to strengthen again over warm water north of Cuba, with the Bahamas and parts of Florida's Atlantic coast, the Georgia coast, and coastal Carolinas potentially in line for a strong hurricane strike.
New hurricane watches have been issued for the Georgia coast, and new tropical storm watches have been issued for the Florida west coast.
(Hurricane Matthew is expected to regain strength, prompting evacuations as the storm threatens the East Coast of the US. CNN's Chad Myers reports. Courtesy of CNN and YouTube)
(MORE: Hurricane Central | Interactive Storm Tracker Map)
A hurricane warning remains in effect along the east coast of Florida from Golden Beach, Florida, to the Flagler/Volusia County line. Lake Okeechobee has also been placed into a hurricane warning.
A hurricane watch has been expanded northward and now includes everyone from the Flagler/Volusia County line in Florida to the Savannah River in Georgia.
This includes Orlando and Jacksonville, Florida.
Tropical storm warnings are in effect from Chokoloskee to Golden Beach in Florida, for the Florida Keys from Seven Mile Bridge eastward, and for Florida Bay.
A tropical storm watch has been issued for the Florida West Coast from north of Chokoloskee to the Suwannee River.
All interests near Florida's East Coast should rush necessary preparations to completion today.
(MORE: U.S. Impacts From Matthew)
Hurricane warnings continue for the entire Bahamas chain.
Current Watches/Warnings
Latest Status
Hurricane Matthew is now in the central Bahamas, as a reintensifying Category 3 hurricane.
Satellite imagery shows convection re-wrapping around the center, and there have been lightning strikes near the eyewall, indicating an intensification is taking place.
Current Storm Status
Matthew's tropical storm-force wind field (at least 39 mph sustained winds) extends up to 175 miles from the center, and hurricane-force winds extend up to 45 miles from the center.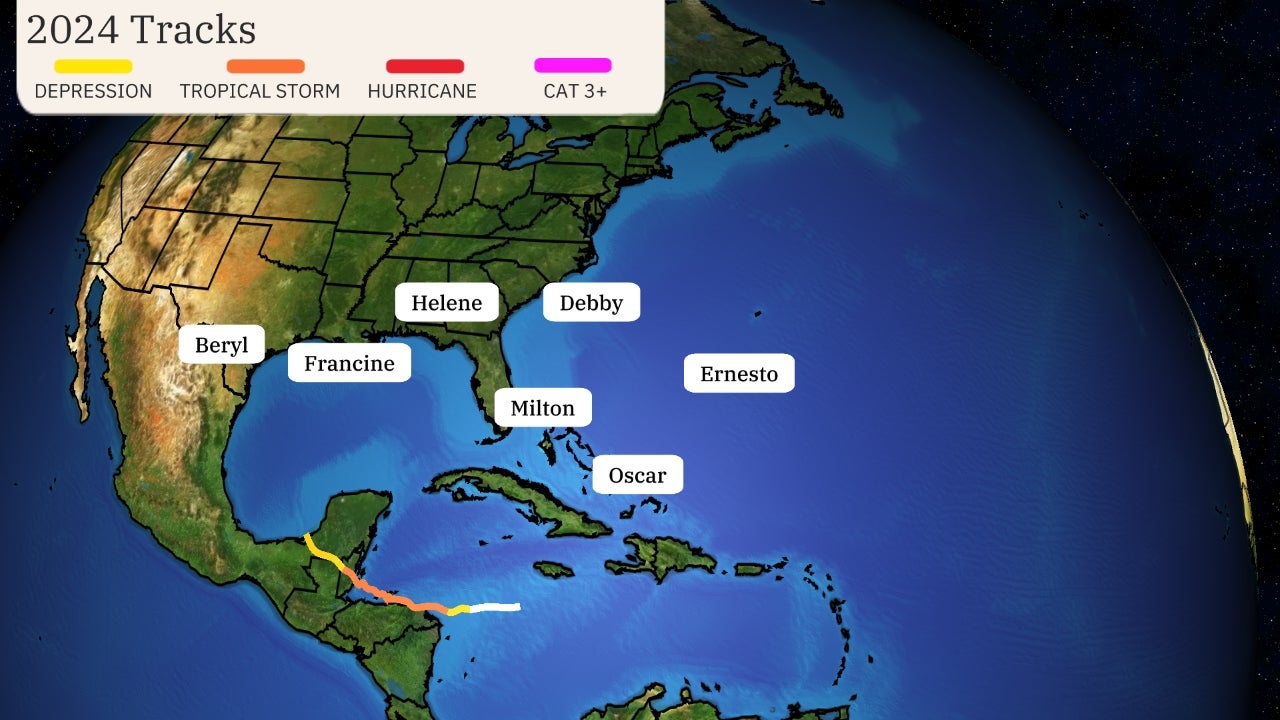 Current Wind Speed and Gusts
Caribbean, Bahamas Impacts
Direct impacts from Matthew dhave waned in Hispañola (including Haiti), but mudslides may continue for days thanks to rain-soaked ground.
(NEWS: Latest Caribbean Impacts)
Eastern Cuba conditions will slowly improve Wednesday Evening, though some rainbands may trigger additional flash flooding.
Meanwhile, conditions will steadily worsen in the northern Bahamas including Nassau. Conditions for the southern Bahamas and the Turks and Caicos Islands will improve tonight.
Here is the approximate timing of the worst wind and surge impacts, coinciding with the nearest passage of the eyewall of Matthew in the Bahamas:
Southeast Bahamas: Threat has begun to pass
Central Bahamas: Through Thursday morning
Northwest Bahamas (including Nassau & Freeport): Late Wednesday night through Friday morning
(MORE: Facts/Myths About the Hurricane Cones of Uncertainty)
Projected Path and Intensity
Over a foot of rainfall from Matthew will trigger life-threatening flash floods and mudslides. Here are the latest storm-total rainfall amounts from the National Hurricane Center:
Western Haiti: Additional 2 to 4 inches, hurricane totals could climb to 40 inches locally
Northwestern Haiti, eastern Cuba: 8 to 12 inches, locally up to 20 inches
The Bahamas: 8 to 12 inches, locally up to 15 inches
Turks and Caicos: 2 to 5 inches, locally up to 8 inches
Northeast Haiti, northern Dominican Republic: 1 to 3 inches, locally up to 5 inches
Central Cuba: 3 to 5 inches, locally up to 8 inches
(MORE: Haiti's Deadly Hurricane History)
On the current forecast track, here are the latest storm surge forecasts from the NHC, above normal tide levels at high tide:
The Bahamas: 10 to 15 feet
North coast of Cuba east of Camaguey: 4 to 6 feet
It's worth noting this forecast for the Bahamas is on the order of storm surge witnessed during Hurricane Joaquin almost exactly one year ago, only for, potentially, the entire chain, rather than just the central and southeast Bahamas.
(FLASHBACK: Hurricane Joaquin 2015)
Battering waves will ride atop the storm surge, and coastal flooding from large waves may begin well in advance and ahead of Matthew's center.
This storm surge will also limit rainfall runoff in some places, aggravating flooding, especially in coastal locations where swollen rivers cannot drain.
Hurricane-force winds, with peak timing as outlined above, will lead to widespread structural damage, particularly to poorly-built structures, numerous downed trees and widespread power outages. Due to wet ground, trees will be even more susceptible to being toppled.
U.S. Threat
Matthew's center will make a close-enough pass to a large swath of eastern Florida to bring hurricane-force conditions at least to the Atlantic coast and possibly inland. If the center moves close enough, at least the western eyewall could bring destructive winds to at least Category 3 intensity.
The reason for this is stronger high pressure aloft persisting over the western Atlantic and East Coast of the U.S., helping to trap Matthew close to the coast.
(NEWS: Southeast U.S. on Alert)
Upper-level steering factors in play for Matthew later this week.
(MORE: Hurricane Central | Interactive Storm Tracker Map)
Here is the approximate timing of the worst wind and surge impacts, coinciding with the nearest passage of the eyewall of Matthew. (Note that Matthew's eye may never make landfall, but its eyewall, containing the hurricane's strongest winds, may do so.)
Southeast Florida: Thursday through early Friday
Northeastern Florida/Georgia coast: Friday through early Saturday
South Carolina: Saturday and Saturday night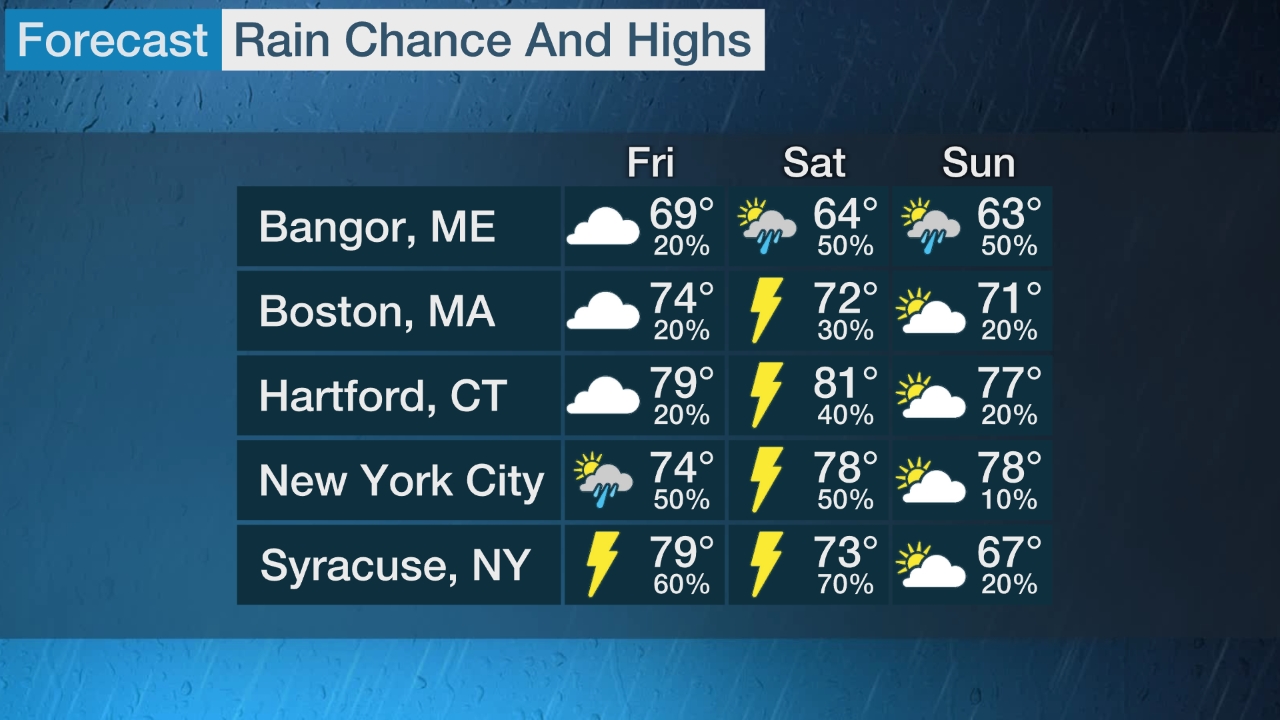 Hurricane Force Wind Probabilities
Small, subtle changes in the path of the eyewall, sometimes not resolvable until hours before the passage, will make a large difference on wind impact.
(MORE: When Hurricanes Parallel the Coast Instead of Making Landfall)
This uncertainty was best summarized by the 11 a.m. Wednesday forecast from the National Hurricane Center:
"When a hurricane is forecast to take a track roughly parallel to a coastline, as Matthew is forecast to do from Florida through South Carolina, it becomes very difficult to specify impacts at any one location.  For example, only a small deviation of the track to the left of the NHC forecast could bring the core of a major hurricane onshore within the hurricane warning area in Florida. However, a small deviation to the right could keep the hurricane-force winds offshore."
In addition to the wind damage potential, significant storm surge flooding is possible along the Florida East coast north of West Palm Beach building Thursday, continuing into Friday. The storm surge flood potential will spread up the coasts of Georgia, South Carolina and southern North Carolina through Saturday. Battering waves riding atop the surge will lead to beach erosion.
On the current forecast track, here are the latest storm surge forecasts from the NHC, above normal tide levels at high tide:
Virginia Key to Deerfield Beach: 1 to 2 feet
Deerfield Beach to Sebastian Inlet: 3 to 5 feet
Sebastian Inlet to Savannah River: 5 to 8 feet.
(MAP: NHC Prototype Storm Surge Watch/Warning)
Again, depending on the exact path of Matthew, rainfall flooding will likely be a threat, as well, along parts of the Southeast coast into the weekend.
On the current path, here are the forecast rainfall totals:
East Central Florida: 4 to 7 inches, locally up to 10 inches
Florida Keys: 1 to 3 inches, locally up to 5 inches
(FORECAST: Detailed U.S. Impact Outlook)
You may have noticed the forecast track has changed for areas from North Carolina northward, as it now appears increasingly likely Matthew will not get "picked up" by a southward dip in the jet stream forecast to push into the Northeast U.S. this weekend.
Instead, Matthew may drop southeast away from the coastal Carolinas later Sunday. It's possible Matthew could then meander off the Southeast coast or northeast of the northwest Bahamas into early next week, but details on where it may eventually go from there are uncertain at this time.
All interests along the Southeast U.S. East Coast should be rushing preparations to completion.
Check back with us frequently at weather.com for any important forecast updates.
Original post https://weather.com/storms/hurricane/news/hurricane-matthew-bahamas-cuba-us-forecast