By Marc Torrence, Patch National Staff
A shooting near Baylor University in Waco, Texas, that left one person dead prompted the school to briefly shelter in place, but the all clear was given nearly an hour later following a joint search by Waco and Baylor Police.
The suspect was described by the school as a black male in his late teens or early 20s with a fade haircut, wearing a white tank top and tan shorts.
https://www.youtube.com/watch?v=EAOOubsCsz8
(Learn More, courtesy of lol esports tv and YouTube)
According to Waco Police, he approached a group of people who were gambling in a vacant lot off campus and opened fire. One of the men was hit and died, police said.
He fled the scene, police said, and he was last seen heading toward campus on 7th Street. Waco and Baylor Police were conducting a joint search for the suspect in the shooting, which happened at 9th Street and Garrett Avenue off campus, according to an email sent to students.
The man was last seen at 7th and Ivy exiting his vehicle, which was described as a large, four-door sedan with Texas license plate "FWS7414," according to Waco Police.
He fled on foot and has not been captured, but police said the shooting is not random and Baylor students and faculty are not in danger.
The school is asking anyone with information to call 254-710-2222.
Original post http://patch.com/us/across-america/shooting-near-baylor-university-campus-prompts-shelter-place
Editors Note: Baylor University released the following alerts during the incident: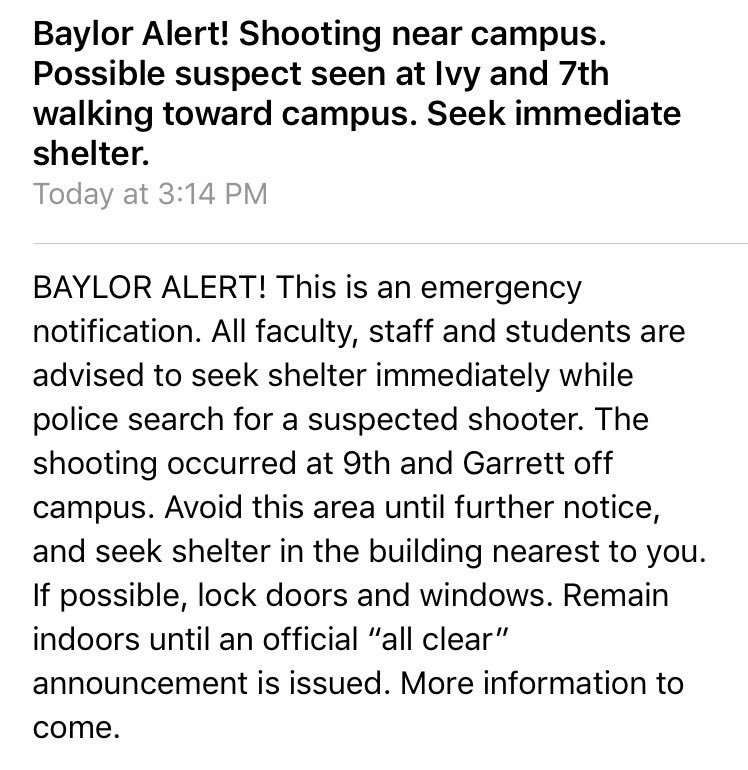 Baylor University posted the following announcement on the university website at 3:39 p.m.: