Safety is the US Department of Transportation's top priority.
We're asking you to join our team as we put this principle into action by fighting drunk driving on Super Bowl Sunday.
Whether you're quarterbacking your team's Super Bowl party or just on the receiving end of an invitation, you need a winning strategy for the big game: a shutdown defense against drunk driving.
This afternoon from 3-4 p.m.ET, we'll give you a sneak peek at our playbook during our Super Bowl "Fans Don't Let Fans Drive Drunk" Twitter chat.
We'll share tips to combat drunk driving and field your questions when you use the hashtag #DontDriveDrunk.
(This is the story of Antonio Mason, a budding college basketball star who was hit by a drunk driver. If you drive drunk, it's not just your own life that you're affecting. US DOT NHTSA)
Drunk driving kills. It takes a life every 51 minutes in America. Last year, on Super Bowl Sunday, 69 people were killed in drunk-driving crashes.
For Super Bowl LI, we need a team effort to make sure everyone drives sober.
Here are a few of the keys to the game:
Know the Rules
It's illegal everywhere in America to drive with a blood alcohol concentration of .08 or higher. If you drink and drive, you won't get hit with a yellow flag; you'll get pulled over, arrested, and prosecuted. Your wallet takes a hit too; the average DUI costs about $10,000.
Play It Safe
When it comes to safe ride choices, you've got more options than the wishbone offense. From buses and trains to car services and designated drivers, connect with an option that will get you home safely.
SaferRide
Want a safe and convenient way to get home? Download the NHTSA SaferRide app to help you identify your location and call a taxi or a friend for a ride home.
Too drunk to drive means too drunk for complicated apps.
SaferRide is the simplest possible way to get home safe and only has three self-explanatory buttons on the Home screen.
Choose from a list of available taxi services in your area, and with the tap of a button call them.
Call a pre-programmed contact.
If you just need to know where you are, you can bring up a map of your current location.
SaferRide was developed by the U.S. Department of Transportation's, National Highway Traffic Safety Administration (NHTSA). NHTSA is dedicated to saving lives by reducing the number of deaths and injuries on our nation's roadways.
Each year on average, more than 10,000 people are killed by drunk drivers.
So please help end drunk driving by doing your part: don't drive if you've been drinking. Use NHTSA's SaferRide app to get home safely.
The SaferRide app is available for Android devices on Google Play, and Apple devices on the iTunes store. 
If you're hosting the party, make sure your guests have safe rides home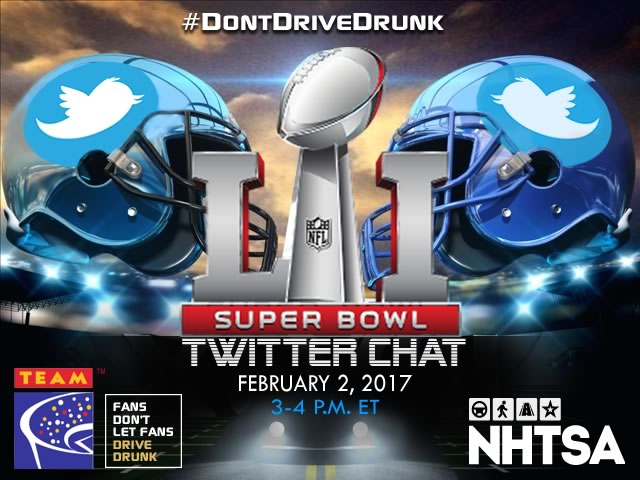 Lean on Your MVP
Encourage guests to be sober designated drivers and name them your party's Most Valuable Players for stepping up.
Know the Score:
You already know that, on average, three people will lose their lives to drunk driving just in the time it takes to watch the football game.
But did you know that drunk driving accounts for almost one of every three deaths on our nation's roads every year?
In 2015 alone, 10,265 people were killed in drunk-driving crashes. Your winning play is to never drive drunk or to ride with a driver who has been drinking.
These keys to the game will make sure Super Bowl LI is remembered for a big win rather than a tragic loss of life due to drunk driving.
And however you and your guests travel on Super Bowl Sunday, always buckle up. Your seat belt is your best defense in any vehicle crash.
We hope it's a great game and that you enjoy it—safely—with friends and family. Remember: Fans Don't Let Fans Drive Drunk.
Original post https://www.transportation.gov/fastlane/super-bowl-sunday-fans-don%E2%80%99t-let-fans-drive-drunk