American Security Today

is delighted to share with our readers an endorsement for AST received from Darren Burch, a veteran of the Phoenix Police Department with over a hundred commendations, who currently hosts a radio show called "5-0 Info."
"I've been reading and evaluating American Security Today (AST) for the last month, and I can say with 30-years of law enforcement experience and as an Army veteran, that AST is the premier source for issues relating to police and military."  

"This professional publication sets "the bar" for other security magazines, because AST, from their in-depth interviews to their broad scoping look at concerning trends, is the quintessential source to inform and enlighten professionals looking for information relating to law enforcement, military and all things security."

    Darren Burch, Radio Show Host "5-0 Info"

    Author – Twisted But True 
As a retired Phoenix cop with a 30 year career in Law Enforcement and an Army Veteran

,

having served four-years in Army Military Intelligence, Darren recently met up with American Security Today for an interview, saying he
 was fortunate to have ended his law enforcement career as the Crime Stoppers Sergeant, which allowed him the unique opportunity to share manic and funny cop-stories each week on a local radio station's rock morning show.
Upon retirement, Darren used these same twisted and funny true crime stories to write and publish a book called, "Twisted But True," as a fundraiser for the non-profit Crime Stoppers Program, which locally is called Silent Witness.
What is Silent Witness?

Silent Witness is a non-profit program created to give citizens the opportunity to assist law enforcement in solving crimes.
Citizens remain completely anonymous and are paid cash rewards of up to $1,000 when the information they provide leads to an arrest or indictment.
Established in 1979, Silent Witness works in partnership with the community, media and law enforcement, and is a member of both Crime Stoppers USA and Crime Stoppers International.
Victims like those above are the reason Silent Witness is so important; and the list of victims is endless.
Without the information citizens provide, law enforcement might not be able to piece together all the evidence that ultimately leads to an arrest … and a victim's case being solved.
Silent Witness relies on a partnership between law enforcement, the media and the community.
Silent Witness shares information on unsolved felony cases to the local media, as well as shares on Facebook, Twitter, and sometimes Instagram, LinkedIn and YouTube.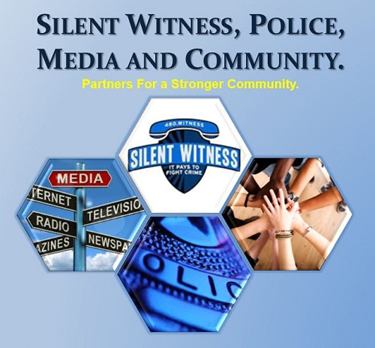 If an individual recognizes the suspect or has information on the crime, they have the opportunity to call Silent Witness (480-WITNESS / 480-948-6377) or go online to provide a tip.
Calls are answered by a live person 24/7 and online or mobile tips are accepted at all times.
Tips are then routed to the proper Detective in charge of the case.
(If information is urgent or in progress, please call 911.)
If the tip information leads to an arrest or indictment in the case, you're eligible to for a cash reward of up to $1,000.
Your identity remains anonymous even when getting paid.
How do you make sure I will remain completely anonymous?
When you provide a tip, you receive a case number.
Then call back within certain time frames if you have more information or want to check the status of your tip.
Anytime you call, use your case number — not your name.
Silent Witness phones do not have caller ID and conversations are not recorded.
Mobile app and web tips are just as secure and anonymous because they are received using encryption technology.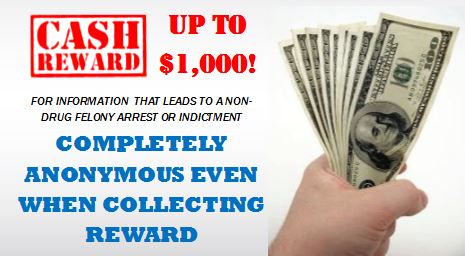 Rewards are distributed in a private, anonymous manner to the tipster through a third-party.
By guaranteeing anonymity, individuals can provide important information to law enforcement – without the concern of retribution.
By offering cash rewards for information leading to indictment or arrests, the Silent Witness program encourages otherwise reluctant callers to provide information.
How does Silent Witness pay for all those rewards?
Silent Witness is a 501(c)(3) non-profit organization and rewards are primarily funded through private donations and grants.
Donations Are Tax Deductible.
"Twisted But True"
Darren Burch, veteran of the Phoenix Police Department with over a hundred commendations who currently hosts a radio show called "5-0 Info," has completed his new book "Twisted but True": a collection of riveting true-crime stories drawn from actual cases worked by Sergeant Burch during his long and decorated career.
"Darren Burch spent 30 years in law enforcement and has seen some incredibly rough, tough and laugh-out-loud stuff on the force.
So, the question you're probably asking is, why should I read another book about the Thin Blue Line?
Let me warn you now…this is NOT your typical "cop" book.
Burch's "Twisted Tales" offers unique insights into humanity's dark and twisted side, and it is a pure joy to read.
While the Tales never lose sight of a police officer's first-priority – to protect and serve – it's filled with poignant, funny and terribly tragic stories that all end with an amazing and unpredictable twist.
The only question that remains: Who plays Darren in the movie?"
Mac Watson, radio show host 
Mac & Gaydos Show 
KTAR-FM PHX, AZ www@ktar.com
Published by New York City-based Page Publishing, Darren Burch's engrossing stories paint a vivid picture of true crime and the men and women dedicated to finding justice for its victims.
Nationally syndicated book critic Linda Strong called "Twisted But True," "… gut-clenching laugh-out-loud funny with a side of seriousness."
And all proceeds from "Twisted But True" sales, go to the Silent Witness Program.
The book is filled with funny, dark and powerful true crime stories, ending in unforgettable twists.
In his capacity as host of the "5-0 Info Radio Show," Darren is working hard to to strengthen the relationship between community and police, and this book will help to that end, while also providing revenue for rewards to catch violent criminals.
Readers who wish to experience this gripping and potent work can purchase "Twisted But True"  at bookstores everywhere, or online at Amazon, as well as Twistedbuttrue.com.
Please considering joining Darren's mission in supporting Silent Witness by sharing this fabulous book with your social media friends! Thank you.
See how much the Silent Witness program has accomplished below, as of January 1, 2018!
Caution: May not be suitable for persons under 18
Due to the graphic language detailing sex crime and homicide cases this book may not be suitable for everyone.
To Learn More about Darren, please see https://americansecuritytoday.com/sexual-predators-darren-burch-radio-host-author-twisted-true/ for his professional insights on the evolving issues of surrounding the sudden rash of 'sexual indiscretions' and 'sexual missteps' in Hollywood and elsewhere (i.e. Sexual Predators and Sex Crimes).
This piece includes a personal interview with the author, to learn more behind 'Twisted But True."
Sexual Predators: Darren Burch, Radio Host & Author of 'Twisted But True'