The enterprise technology infrastructure has undergone significant changes in the last few years which has driven by the push for digital transformation; and the emergence and rapid adoption of new infrastructure technologies like cloud, containers, mobile devices, IoT, and OT.
While most organizations have well defined policies and processes for responding to vulnerabilities, findings, alerts, and other security gaps in their traditional network and datacenter infrastructure, these practices often don't extend to newer technologies like cloud infrastructure.
As enterprise technology ecosystems continue to evolve and grow more complex, the need to address these challenges is more urgent than ever.
Organizations need to be able to connect, model and analyze relevant security, context and threat data to deliver knowledge-driven insights for vulnerability prioritization, remediation and reporting.
With integrations to 100+ security and business data sources, Brinqa Cyber Risk Services provide a risk-centric, knowledge-driven solution to these pressing cybersecurity problems.
(An integrated solution that combines correlation of vulnerabilities, threat intelligence and business context with risk analysis and scoring to prioritize remediation efforts and measure program effectiveness. Courtesy of Brinqa and YouTube.) 
HOW IT WORKS
Brinqa Cyber Risk Services were built for security; transforming security, context and threat data into knowledge-driven insights that empower organizations to own their cyber risk.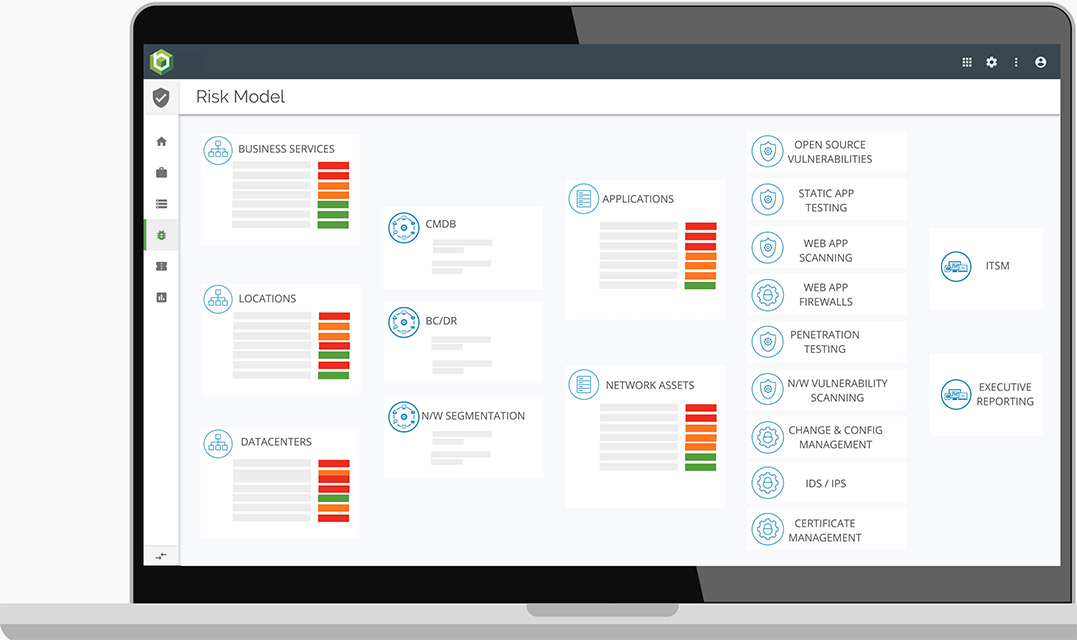 Exercise complete control over your cyber risk evaluation methodology.
Seamless Data Integration
Leverage our ever growing library of 100+ connectors to integrate a wide variety of security and business systems.
Value Based Risk Prioritization & Remediation
Prioritize assets, vulnerabilities, and incidents based on their impact and value to business.
Continuous Communication and Automation
Use Out of the Box metrics, reports and automation rules to streamline processes and engage stakeholders at every step of the process.
Remediate malicious vulnerabilities faster through knowledge-driven cyber risk insights
Brinqa Vulnerability Risk Service connects, models and analyzes all relevant security, context and threat data to deliver knowledge-driven insights for vulnerability prioritization, remediation and reporting.
Intelligently connect vulnerability, asset and threat intelligence from all sources for complete visibility of cyber risk.

Prioritize remediation to address the most exploited and prevalent vulnerabilities that have the biggest impact to your business.

Eliminate the noise of false positives with a view of all vulnerabilities relative to the magnitude of the threat.

Automate risk-aware, closed-loop remediation of vulnerabilities at scale through creation, tracking and escalation of tickets.

Narrow communication gaps across teams with a common model and language for prioritizing and remediating vulnerability risk.

Communicate real-time program metrics and risk indicators to all key stakeholders.
Comprehensive, Extensible Cybersecurity Data Ontology
Brinqa Cyber Risk Services are built on a comprehensive, standardized, and extensible data ontology that clearly defines, delineates and represents the IT, security and business assets that comprise an enterprise technology ecosystem, and the relationships between them.
Expansive Cyber Risk Management Scope
Brinqa Cyber Risk Services provide coverage over the entire enterprise technology infrastructure including network, software, cloud, container, mobile, and OT assets
Automated Remediation Management
Brinqa Cyber Risk Services include a rule-based ticketing engine with powerful capabilities for consolidation, SLA enforcement, and dynamic ownership assignment
The Annual 'ASTORS' Awards Program is specifically designed to honor distinguished government and vendor solutions that deliver enhanced value, benefit and intelligence to end users in a variety of government, homeland security and public safety vertical markets.
The 2018 'ASTORS' Awards Program drew an overwhelming response from industry leaders with a record high number of corporate and government nominations received, as well as record breaking 'ASTORS' Presentation Luncheon Attendees, with top firms trying to register for the exclusive high – end luncheon and networking opportunity – right up to the event kickoff on Wednesday afternoon, at the ISC East registration!
As a competitor in the 2019 'ASTORS' Homeland Security Awards, BlueDiamond Mobile will be competing against the industry's leading providers of Cyber Security Risk and Vulnerability Management Solutions.
Over 130 distinguished guests representing National, State and Local Governments, and Industry Leading Corporate Firms, gathered from across North America, Europe and the Middle East to be honored among their peers in their respective fields which included:

The Department of Homeland Security
The Federal Protective Service (FPS)
Argonne National Laboratory

The Department of Homeland Security

The Department of Justice

The Security Exchange Commission Office of Personnel Management

U.S. Customs and Border Protection
Viasat, Hanwha Techwin, Lenel, Konica Minolta Business Solutions, Verint, Canon U.S.A., BriefCam, Pivot3, Milestone Systems, Allied Universal, Ameristar Perimeter Security and More!
Final nominations are now being accepted for the 2019 'ASTORS' Homeland Security Awards at

https://americansecuritytoday.com/ast-awards/

.
| | | |
| --- | --- | --- |
| Access Control/ Identification | Personal/Protective Equipment | Law Enforcement Counter Terrorism |
| Perimeter Barrier/ Deterrent System | Interagency Interdiction Operation | Cloud Computing/Storage Solution |
| Facial/IRIS Recognition | Body Worn Video Product | Cyber Security |
| Video Surveillance/VMS | Mobile Technology | Anti-Malware |
| Audio Analytics | Disaster Preparedness | ID Management |
| Thermal/Infrared Camera | Mass Notification System | Fire & Safety |
| Metal/Weapon Detection | Rescue Operations | Critical Infrastructure |
| License Plate Recognition | Detection Products | And Many Others! |
Don't see a Direct Hit for your Product, Agency or Organization?
Submit your category recommendation for consideration to Michael Madsen, AST Publisher at: mmadsen@americansecuritytoday.com.
The Annual 'ASTORS' Awards is the preeminent U.S. Homeland Security Awards Program highlighting the most cutting-edge and forward-thinking security solutions coming onto the market today, to ensure our readers have the information they need to stay ahead of the competition, and keep our Nation safe – one facility, street, and city at a time.
Good luck to Brinqa on being a Winner in the 2019 'ASTORS' Awards!
2018 Champions Edition
See the 2018 'ASTORS' Champions Edition – 'Best Products of 2018 ' Year in Review' for in-depth coverage of the outstanding products and services of firms receiving American Security Today's 2018'ASTORS' Homeland Security Awards.'
Enter Early to Maximize Media Coverage of your Products and Services at Kickoff, and Get the Recognition Your Organization Deserves!
And be sure to Register Soon for the 2019 'ASTORS' Awards Presentation Luncheon at ISC East 2019 to ensure your place at this limited- space event!
Why the 2019 'ASTORS' Homeland Security Awards Program?
American Security Today's comprehensive Annual Homeland Security Awards Program is organized to recognize the most distinguished vendors of physical, IT, port security, law enforcement, and first responders, in acknowledgment of their outstanding efforts to 'Keep our Nation Secure, One City at a Time.'
Why American Security Today?

American Security Today is uniquely focused on the broader Homeland Security & Public Safety marketplace with over 70,000 readers at the Federal, State and local levels of government as well as firms allied to government.
The old traditional security marketplace has been covered by a host of security publications that have changed little over many years.
American Security Today brings forward a fresh compelling look and read with our customized digital publications that provides our readers with solutions to their challenges.
Our Editorial staff provides a full plate of topics for our AST monthly digital editions, AST Website and AST Daily News Alerts.

The editorial calendar and AST's high drawing website features 23 different Technology and Marketing Sectors such as Access Control, Perimeter Protection, Video Surveillance/Analytics, Airport Security, Border Security, CBRNE Detection, Border Security, Ports, Cybersecurity, Networking Security, Encryption, Law Enforcement, First Responders, Campus Security, Security Services, Corporate Facilities and Emergency Response among others.
These sectors are part of the new integration, where these major applications communicate with one another in a variety of solutions to protect our cities and critical infrastructure.

AST has Expanded readership into vital Critical Infrastructure audiences such as Protection of Nuclear Facilities, Water Plants & Dams, Bridges & Tunnels, and other Potential targets of terrorism.
Other areas of concern include Transportation Hubs, Public Assemblies, Government Facilities, Sporting & Concert Stadiums, our Nation's Schools & Universities, and Commercial Business Destinations – enticing targets for extremist or lone wolf attacks due to the large number of persons and resources clustered together.
Founded in 2009, Brinqa is the creator of an industry leading Cyber Risk Management Platform focused on the modeling, analysis, prioritization, remediation and reporting of cyber risk across traditional and emerging enterprise technologies.
AST strives to meet a 3 STAR trustworthiness rating, based on the following criteria:
Provides named sources
Reported by more than one notable outlet
Includes supporting video, direct statements, or photos
Subscribe to the AST Daily News Alert Here.