Women working as law enforcement officers at ICE fulfill the agency's public safety and security mission with integrity and strength.
ICE Prioritizes Recruiting Women Candidates.

The ICE Women in Law Enforcement feature section provides useful information about career tracks at ICE, employment benefits, upcoming recruiting events, application requirements and an overview of the agency.
Visit each month to learn how to become a law enforcement officer at ICE.
Upcoming topics include DHS Hiring Fairs, Police Week, webinar schedules, new job postings, current and retired ICE law enforcement officers, women serving their communities, and women in the Department of Homeland Security.
Follow #ICEWomenWork on Twitter to keep current on women in law enforcement.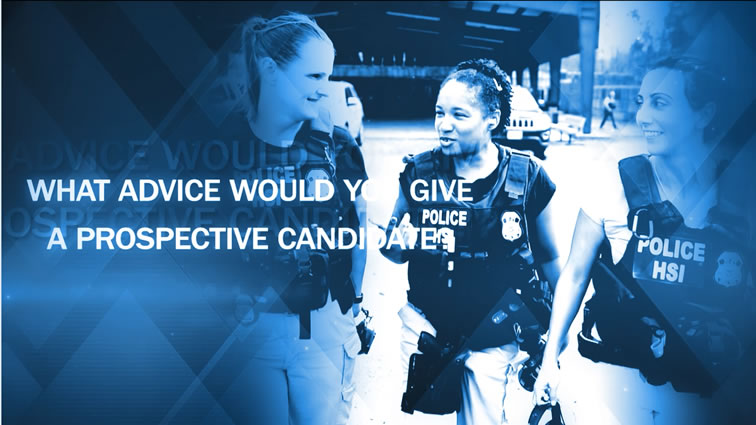 Additionally, Special Agent Fountaine carries out the duties of a Certified Undercover Operation Program Manager. In this role, she ensures compliance and provides guidance on day-to-day operational and strategic decisions regarding undercover activities. She also coordinates activities with the Office of Investigations Headquarters, foreign offices and other agencies and reviews financial reports for proper use of funds.
Special Agent Fountaine attended the Federal Law Enforcement Training Center as well as the HSI Undercover Manager's, Operatives, and Fundamental Financial System Schools.
She holds the Bachelor of Arts in Political Science from Southern University and A&M College, Baton Rouge, Louisiana.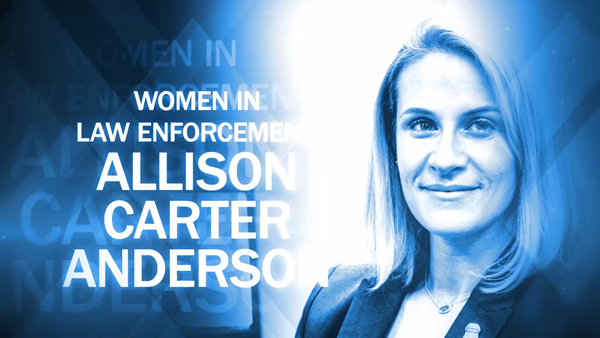 Working with Professional Law Enforcement Women
ICE Homeland Security Investigations (HSI) Special Agent Allison Carter Anderson shares her experiences working with other female law enforcement professionals.
She is assigned to the office of the Special Agent in Charge in Tampa, Florida, and focused on worksite enforcement investigations, she has also conducted narcotics and financial investigations.
She is in training to become a coordinator for the ICE IMAGE (ICE Mutual Agreement between Government and Employers) program and also serves as a recruiter for her office in central and north Florida.
Special Agent Carter Anderson began her career at Operation Alliance in San Ysidro, California where she investigated narcotics crimes and participated in several Title III wiretap investigations.
She completed her special agent training at the Federal Law Enforcement Training Center in Brunswick, Georgia.
Carrying on her family tradition of working for the federal government, she graduated from Florida State University in 2000 with a degree in History.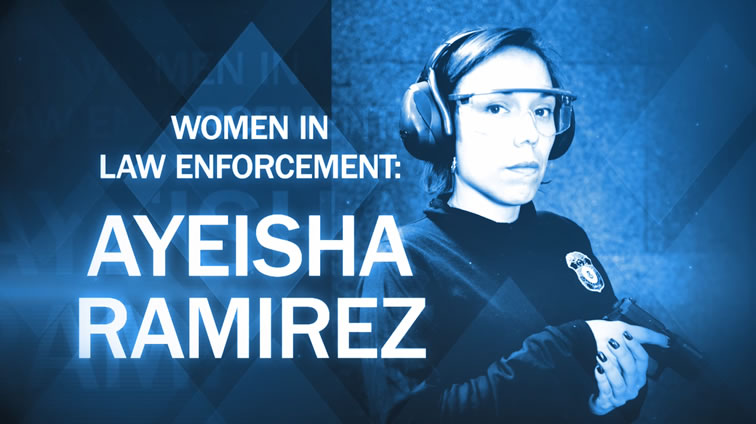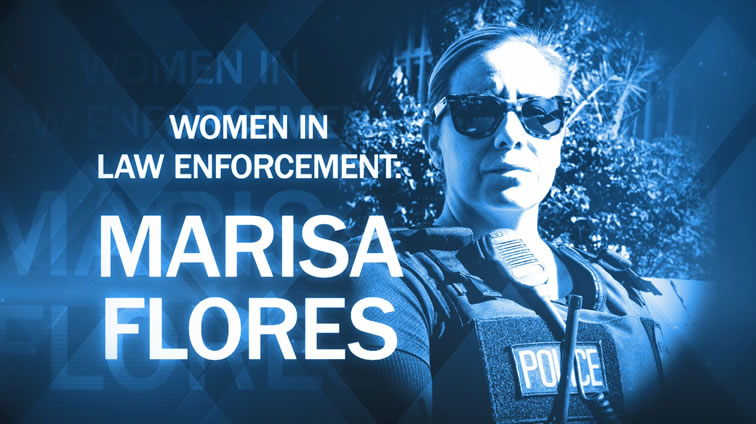 Making the Choice to Work in Law Enforcement
ICE Enforcement and Removal Operations (ERO) leader Marisa A. Flores reveals why she chose the challenging field of law enforcement as a career.
As ERO Acting Deputy Field Office Director, Los Angeles Field Office, Flores oversees and manages over 500 employees, 175 contract staff and an operating budget of $125 million.
She previously held the position of Assistant Field Office Director in that office and managed the Criminal Alien Program, 287(g) Program, fugitive operations, detention and transportation operations, and detention management and compliance.
After beginning her federal civil service with the Immigration and Naturalization Service (INS) as a mail and file clerk, Deputy Field Office Director Flores worked her way through the ranks as a student intern and deportation officer.
She continued promotions as a detention and deportation officer and later as supervisory detention and deportation officer at ERO Headquarters in Washington, DC.
She progressed to administrative management as Chief of Staff for the ERO Division of Policy and Communications and managed a budget of $21 million and a workforce of 112 employees.
In 2010, she was promoted to Deputy Chief of Staff for Operations in support of the ERO Executive Associate and Deputy Executive Associate Directors, and assisted with the management of daily operations and procedures related to enforcement, detention and removal activity at headquarters and in the field.
Marisa Flores is a graduate of the University of San Diego, where she majored in Spanish.
She holds a Master of Forensic Sciences from National University.
5 Historical Facts about Women at ICE
1. In 1866, a female customs employee was referred to as an "Inspectress" or "Female Inspector."
5. In 1971, the Civil Service Commission ruled that women would be permitted to fill enforcement positions that required the use of firearms.
* Information provided by U.S. Customs and Border Protection historians
(Learn More. On February 28, 2018, ICE held a Women in Law Enforcement Webinar for college and university students and recent graduate women interested in pursuing a law enforcement career at ICE. The webinar featured a panel of female special agents and deportation officers who shared their experiences in law enforcement and career paths at ICE. Additionally, human resource officials explained the federal application process and highlighted ICE career pathways for students and recent graduates. Courtesy of ICE .gov and YouTube)