Ivanti, the company that unifies IT to better manage and secure the digital workplace, and a Platinum Award Winner in the 2017 'ASTORS' Homeland Security Awards Program, is pleased to announce the Ivanti Identity Director has been nominated to compete in the 2018 'ASTORS' Awards Program.
Cloud and mobile have transformed the way IT delivers services to business.
But these new technologies also complicate IT's ability to manage identities and access and introduce new challenges around employee productivity.
Without an automated way to manage identities, IT has a difficult time managing complex access rules.
Ivanti Identity Director delivers modern identity management for today's digital workforce.
It provides an attribute-based approach with identity workflow and automation to help enterprises securely deliver the right levels of access to apps and resources based on each employee's identity.

Many IT teams struggle to support the employee onboarding process.
Getting the right access to the right apps and resources can often take days, even weeks.
Added to this, IT must keep up with role changes of an employee or contractor and the critical off-boarding process that protects access to key systems once an employee moves job roles or a contractor or employee leaves the organization.
Identity Director improves IT efficiency, streamlines onboarding and off-boarding, and gives the insight and visibility needed to reduce risk and ensure compliance standards are met.
A central identity warehouse aggregates an employee's identity from existing internal systems such as HR and payroll systems, so IT can automatically deliver predictable services to individuals when needed, or workers can use self-service supported by automated workflows.

Designed for complex, hybrid environments, typical customers are mid-market enterprises with 2,000-10,000 workers.
Verticals include highly regulated and at-risk industries such as financial, healthcare, retail and government.
Unlike traditional approaches to identity and access management, Ivanti Identity Director:
Provides more than just role-based identity management;
Allows IT to utilize individual attributes and user context to automate the enforcement of business policy for access control
Includes automation that provides 300+ pre-built automation tasks and allows easy integration into third-party solutions to automate common IT tasks and access requests.
Helps IT strike a fine-tuned balance between security and enabling workforce productivity
Can be up and running quickly – resulting in immediate impact and ROI
Works across existing hybrid infrastructure (physical, virtual and cloud), allowing enterprises to maximize both their current and future investments

Balancing Access Controls and Productivity
Rising security risks and corresponding government regulation around data protection and internal governance policies make it more important than ever for IT to prioritize identity and access management.
By automating everything, from managing privileged access to the onboarding and offboarding of workers based on identity, IT can balance their responsibility of meeting compliance and governance requirements while providing workers with more flexibility than ever before.
Ivanti Identity Director, powered by RES provides an attribute-based approach to identity and access with automated provisioning, workflows, and self service.
With Ivanti, workers have the right levels of access based on their identity, giving them the ability to stay productive while the business remains secure.

Key capabilities include:
Access Control
Manage access based on identity attributes and context-aware policies to keep workers productive and secure
Automated Delivery and Return
Automate the delivery of predictable services to the business when needed, based on policy and workflows
Self Service
Deliver services to the business when requested via a self-service portal or mobile app
Flexible Administration
Simplify the management of the complex hybrid environment Governance – Reduce risk and ensure compliance through insight, visibility and analytics

Deliver predictable access to apps, data and, services based on identity
Ivanti Identity Director combines identity workflow and Ivanti automation to help enterprises balance security and productivity.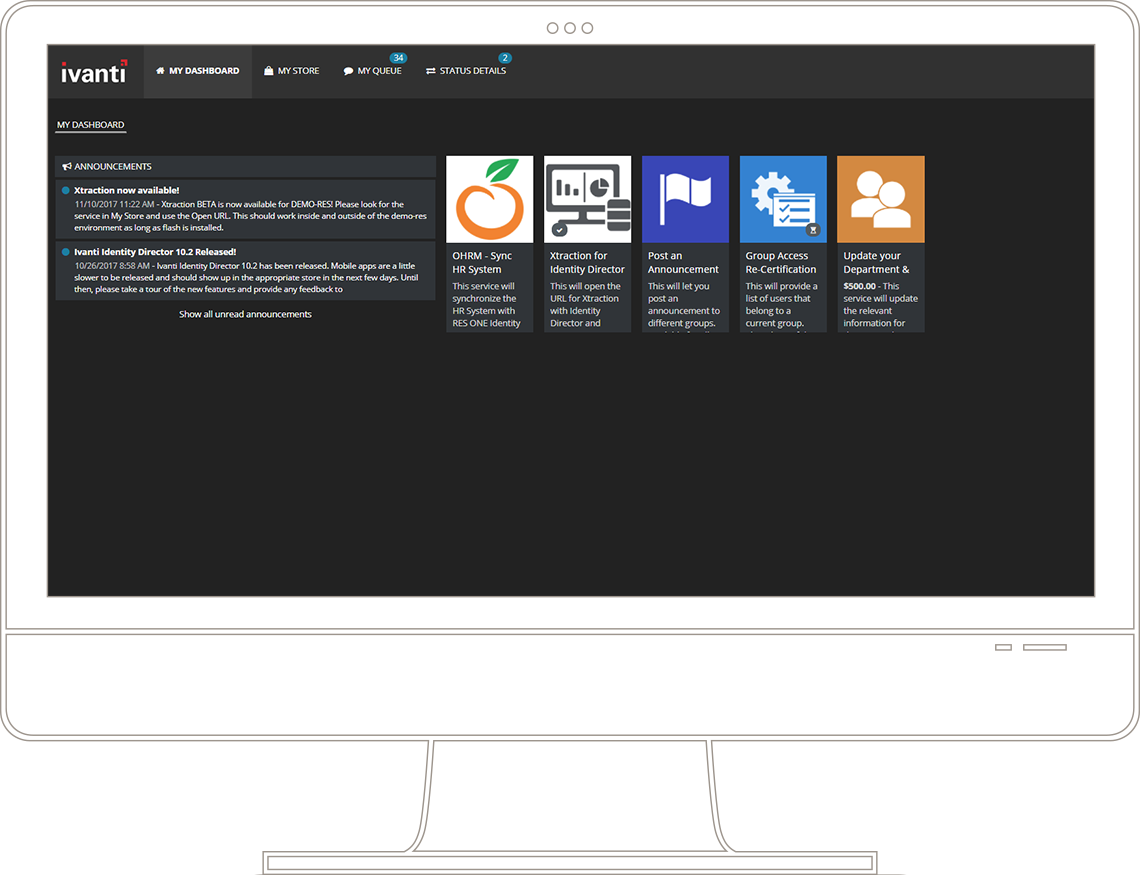 Access Certification
Streamline manual processes associated with attestation and governance activities.
Web and Mobile Self-Service
Users can request, approve, and manage available corporate apps and services via a web storefront and mobile app.
Password Reset
Allow users to reset passwords for federated and non-federated systems as part of identity workflows.
APIS and Integrations
Easily connect to third-party systems. Leverage pre-built and community connectors.
(Not another boring IT company. Ivanti unifies IT processes and security operations to better manage and secure the digital workplace. We take our products and our customers very seriously, but ourselves not so much. Courtesy of Ivanti and Vimeo)
Ivanti Competes in 2018 'ASTORS' Homeland Security Awards Program
AST focuses on Homeland Security and Public Safety Breaking News, the Newest Initiatives and Hottest Technologies in Physical & IT Security, essential to meeting today's growing security challenges.
The 2018 'ASTORS' Homeland Security Awards Program, is organized to recognize the most distinguished vendors of Physical, IT, Port Security, Law Enforcement, Border Security, First Responders, (Fire, EMT, Military, Support Services Vets, SBA, Medical Tech) as well as the Federal, State, County and Municipal Government Agencies – to acknowledge their outstanding efforts to 'Keep our Nation Secure, One City at a Time.
As an 'ASTORS' competitor, Ivanti Identity Director will be competing against the industry's leading providers of Innovative Identification Management Solutions.
Over 100 distinguished guests from National, State and Local Governments, and Industry Leading Corporate Executives from companies allied to Government, gathered from across North America and the Middle East to be honored from disciplines across the Security Industry in their respective fields which included representatives from:
The Department of Justice

The Security Exchange Commission

State and Municipal Law Enforcement Agencies

Leaders in Private Security
American Security Today will be holding the 2018 'ASTORS' Awards Presentation Luncheon to honor Nominees, Finalists and Winners on November 14, 2018 at ISC East 2018 in New York City.

Good luck to Ivanti on becoming a Winner of the 2018 American Security Today's Homeland Security Awards Program!
For 'ASTORS' Sponsorship Opportunities and More Information on the AST 2018 'ASTORS' Homeland Security Awards Program, please contact Michael Madsen, AST Publisher at: mmadsen@americansecuritytoday.com or call 732.233.8119 (mobile) or 646-450-6027 (office).
(Learn More about Ivanti, from Mr. Phil Richards, Chief Security Officer, Ivanti Software. Courtesy of American Security Today and YouTube)