Sikorsky, a Lockheed Martin company, has delivered the first CH-53 King Stallion helicopter to the U.S. Marine Corps (USMC).
The aircraft is the first of an expected 200 helicopters for the Marine Corps' fleet.
The CH-53K is the new build replacement for the U.S. Marine Corps' aging CH-53E Super Stallion fleet. The CH-53E first flew in 1974 and entered service with the USMC in 1981.
(The Corps took delivery of its first CH-53 King Stallion heavy lift helicopter at the New River air station in North Carolina on Wednesday. Courtesy of US military Technology and YouTube. Posted on May 18, 2018)
"Our first delivery of a CH-53K to the Marine Corps marks the start of a new generation of true heavy lift helicopter deliveries by Sikorsky that bring unsurpassed and expanded capability across the modern battlefield to provide tremendous mission flexibility and efficiency in delivering combat power, humanitarian assistance or disaster relief for those in need," said 
Dan Schultz

, Sikorsky President and former CH-53 pilot.
"With 18 additional aircraft in various stages of production already, the entire Sikorsky team, in partnership with our suppliers, is looking forward to additional deliveries to delight our customer."
This first CH53K heavy lift helicopter will be stationed at Marine Corps Air Station New River in 
Jacksonville, North Carolina

.
There the helicopter enters into the Supportability Test Plan.
U.S. Marines will conduct a logistics assessment on the maintenance, sustainment and overall aviation logistics support of the King Stallion.
This assessment also will validate maintenance procedures with Marine Corps maintainers conducting hands-on care/upkeep of the aircraft.
The Supportability Test Plan will ensure readiness and support on the flightline when CH-53K helicopters enter into service with the USMC.
Sikorsky expects to deliver its second CH-53K helicopter to the USMC in early 2019.
The CH-53K test program recently completed the following milestones:
Maximum weight single-point cargo hook sling load of 36,000 pounds (16,329 kilograms)
Forward flight speed of over 200 knots
60 degrees angle of bank turns
Altitude of 18,500 feet mean sea level (MSL)
12-degree slope landings and takeoffs
External load auto-jettison, and
Gunfire testing
"I am very proud of the work accomplished to deliver the most powerful helicopter ever designed into the hands of our Marines," Lt. Gen. 
Steven Rudder

, Deputy Commandant for Aviation, said.
"And confident in the teamwork and dedication in this program which will carry us to IOC (Initial Operational Capability) next year."
Sikorsky is preparing its manufacturing facility in 
Stratford, Connecticut

, to house CH-53K production beginning this summer.
SPECIAL K: Six Things to Know About the World's Only True Heavy Lift Helicopter
A legacy is not built overnight. It's forged from the operational success of legends who flew the path before us.
The CH-53K– the world's only true heavy lift helicopter – builds on Sikorsky's 50-year legacy of heavy lift solutions.
Imagine delivering critically needed combat support to remote regions.
Flying at extended ranges with a full cabin of troops, and supplies and munitions in tow.
Navigating degraded visual environments (DVE) with pinpoint accuracy.
Serving as the anchor point for diverse, multinational missions like humanitarian aid, casualty evacuation, combat search and rescue and more.
There's only one place that delivers such vast capability right at your fingertips – the cockpit of the Sikorsky CH-53K King Stallion. That's what makes the K so special.
Learn more about the K's growing legacy:
1. TRUE HEAVY LIFT CAPABILITY
(The King Stallion is capable of lifting a whopping 36,000 pounds externally, and boasts a cabin 12 inches wider at the floor than its closest competitor. That means it carries more with fewer trips, fewer aircraft and increased mission flexibility. Courtesy of Lockheed Martin)
2. INTRODUCING THE SMART HELICOPTER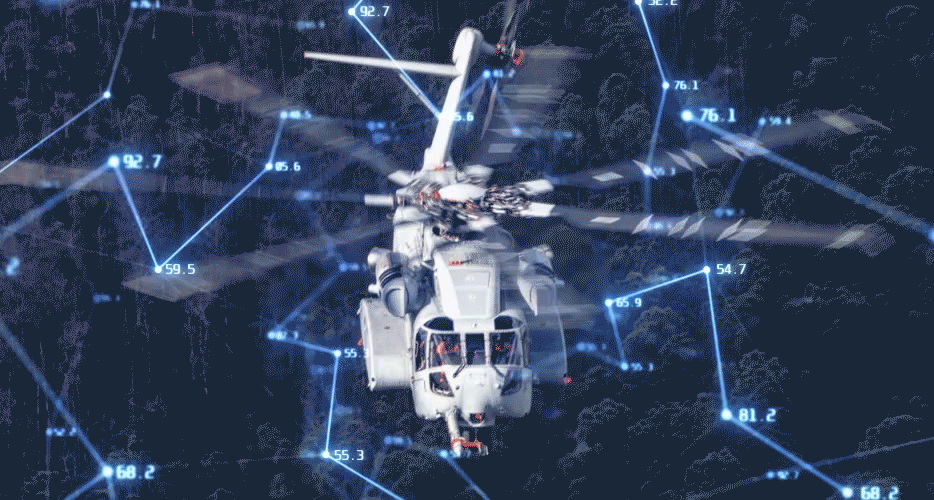 Sikorsky designed the CH-53K from the ground up to operate seamlessly in today's digital world.
Leveraging technology like our advanced fly-by-wire flight control systems helps ensure ease of operation, significantly reduce pilot workload and enhance effectiveness in the most demanding situations, including DVEs.
3. KING STALLION – WE MEAN HORSEPOWER
(Under the hood, three General Electric turboshaft engines deliver 22,500 total horsepower for the CH-53K. The combined power of all Sikorsky production and development models – H-60 Black Hawk, S-92, S-76, Raider and Defiant – is equal to the power of one CH-53K. Let that sink in for a moment. Courtesy of Lockheed Martin)
4. BIG DATA MEETS THE HEAVY LIFTER
The Integrated Vehicle Health Management System (IVHMS) provides active monitoring and diagnostic capabilities that ensure a reliable, available combat aircraft.
The CH-53K was designed with the maintainer in mind, easing maintenance duties and reducing the time required to make repairs.
The result? Enhanced aircraft availability and reduction in operating costs.
5. THAT NEW HELICOPTER SMELL
Though the CH-53K builds off a strong heavy-lift legacy, this bird is brand new, developed to meet the U.S. Marine Corps' future warfighting requirements in the 21 
st
 century battlefield.
The K improves aircraft, aircrew and passenger survivability, while increasing reliability and performance.
6. STRENGTHENING INTERNATIONAL PARTNERSHIPS
Investment in the CH-53K benefits not only the United States, but also its international allies.
The K is ready to serve both domestically and abroad, enabling the Marines and militaries worldwide to move troops and equipment from ship to shore – higher, quicker and more effectively than ever before.
The heavy lift helicopter made its international debut and showcased its maneuverability and advanced fly-by-wire technology during demonstration flights at the recent ILA Berlin Air Show in 
Berlin, Germany

.

(See highlights from the CH-53K's visit to the ILA Berlin Air Show, April 25-29, 2018. Courtesy of Lockheed Martin and YouTube. Posted on Apr 27, 2018)
The CH-53K is an all new aircraft, using modern intelligent design.
The rugged CH-53K helicopter is designed to ensure reliability, low maintenance, high availability and enhanced survivability in the most austere and remote forward operating bases.
For the latest video and photos from the air show please visit the company's Twitter and Facebook channels.