Nightingale Security is engineering fully autonomous drones for use as intelligent aerial security.
With the use of a drone plus base station unit, the drone is programmed to launch missions from its base which acts as a housing and charging station for the drone.
Nightingale Security drones fly programmed, autonomous missions around the perimeter and Geo-Fence mapping ensures the drones stay inside the designated area.
(Learn More. Courtesy of Nightingale Security and Vimeo)
The always-on, drone security system autonomously responds to potentially dangerous alarm events.
Nightingale stores video and flight data for their customers in the cloud.
Since the customer owns the data, they can choose to keep it in the cloud, store it locally on their network, or both.
Whichever the preference, their customers have full access to their data.
For their beta customers, they will work with individual clients to tailor the best possible storage solution.
All engineering, software & hardware are developed by the Nightingale team in the US.
AUTONOMOUS THREAT RESPONSE

When there is an alarm, the system automatically dispatches a drone to the alarm location and streams live video to the security team.
SCHEDULED AUTONOMOUS PATROLS

Set repeatable, autonomous patrol missions based on day, time, path, altitude, hover duration, camera direction and other mission details.
Nightingal's patent pending software was developed by their robotics engineering team, who gained invaluable experience and technical leadership in previous roles at SpaceX and Willow Garage.
It's the brains of their service offering and allows the system to provide autonomous operation 24 x 7.
Their end-to-end system provides Autonomous Remote Operations (ARO) so no human intervention is needed to maintain operational continuity 24/7.
Multi-drone squadron operation is powered by algorithmic task assignment and cooperation combined with proprietary Relay-to- Drone-to-Drone (R2D2D) capabilities.
All data gathered by Nightingale systems is processed and stored behind the clients firewall.
This edge-based design ensures your data is onsite and safe — unlike cloud-based solutions that are vulnerable to being hacked.
The Mission Control app is a communication hub that displays live video and alerts from drones and it lets you control the RAS system anytime, from anywhere in the world.
Nightingale system is also outfitted with Artificial Intelligence, enabling the entire system to learn and get smarter as drones fly more missions — it's autonomous, on-the-job training.
ROBOT AS A SERVICE
Their Robotic Aerial Security service is based on a subscription model.
Customers don't buy or maintain anything.
Nightingale Security Robot as a Service (RaaS) provides an end-to-end solution for a monthly fee over an annual contract.
They also provide comprehensive, industrial MRO support—which includes everything needed to keep the system operational.
Their straightforward RaaS distribution model makes deploying the service an easy decision.
Nightingale Security is a fully autonomous robotic service with proprietary drone-infrastructure technology and a first mover advantage in Robotic Aerial Security.
The Nightingale Security service offers increased capabilities and cost savings to the physical security industry.
This advanced robotic solution offers numerous innovative use cases across many industries.
BENEFITS – Explained in 
Series of Robotic Aerial Security Panel Discussion Snippets from the DRONE World Expo, Nov. 15, 2016, Hosted by Nightingale Security.
COST EFFECTIVE

Their service costs less than you think and is more powerful than you imagine.

The video below discusses how Robotic Aerial Security can help corporations save money and add innovative security capabilities.
RAPID RESPONSE

Nightingale drones go from 0-60MPH in a few seconds. 

In the video below, industry experts discuss how Robotic Aerial Security (drone security) is helping security teams lower response times and get invaluable insight into potential threats.
SITUATIONAL AWARENESS

In the video below, Denis Hébert, Chairman of the Board of the Security Industry Association, and James Conner, CEO of N2NSecure, discuss how Robotic Aerial Security is solving the biggest need in physical security—situational awareness.
ADVANCED SECURITY

Nightingale Security drones fly programmed, autonomous missions around your perimeter and Geo-Fence mapping ensures the drones stay inside your designated area.
This video covers the best way to secure a large corporate perimeter.
MINIMIZE RISKS POSED TO SECURITY GUARDS

The always-on, drone security system autonomously responds to potentially dangerous alarm events—a new standard for commercial security.
The video below discusses how Robotic Aerial Security helps keep security guards safe.
FEATURES
Designed specifically for security applications
Stationed on-site for rapid response to alarm events
Routine, pre-scheduled flight missions with autonomous takeoff, landing and recharging
Integrates with existing VMS, alarm sensor and alert systems
Access Mission Control app from PC and mobile devices
Stream live video feeds to multiple people simultaneously
Multi-sensor capable (Visible, IR, Thermal, Lidar)
Drone-relay capability for extended or persistent monitoring
Expandable platform allows integration of new applications
Autonomous navigation to the point of interest
Object recognition and following
Retrieve data and video 24×7 from their secure data storage
SURVEILLANCE DRONES
Nightingale named their drone Blackbird to pay homage to the historic SR-71 Blackbird of the United States Air Force—a long-range strategic reconnaissance aircraft.
Their drone is outfitted with hardware components vital for security missions.
DRONE SPECS

Flight time: 30 minutes (fully loaded with sensors)
Battery charge time: 45 minutes (80% charged at 20 minutes)
Operational radius of 4 km
Long-range encrypted WiFi (~2km) or cellular-based C3 (Command, Control & Communication)
Gimbal mount camera sensor stabilization
Video stream formats supported: Adobe HDS, RTMP, HLS, Microsoft Smooth, MPEG DASH, RTSP/RTP
Allows sensor swapping for additional capabilities
Precision landing for automated base docking/charging
Dustproof and Weatherproof (rain, snow)
Dimensions: 96 cm wide x 80 cm long x 25 cm tall  /  36″ wide x  31″ long x 10″ tall
Deployed at strategic locations around your facility, Nightingale's rugged, weatherproof base stations contain networked computers that share critical flight information.
They're outfitted with an autonomous, rapid-charging system and a drone centering device.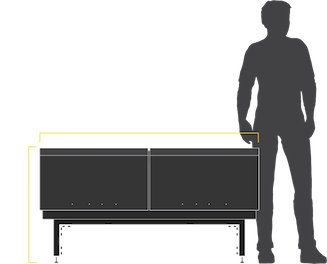 BASE SPECS
Rooftop mountable with Unistrut Metal Framing System
Automated lid opening and closing
IR landing beacon and drone centering mechanism
Powerful internal PC supports OTA updates and allows for future extensibility
Autonomous inductive charging of drone
Operating voltage: 24V DC / 110V AC
Cellular, WiFi or Cable network connectivity
Dustproof and Weatherproof (rain, snow)
UPS backup power for emergency operations
Sensors for remote monitoring of base station health and base station surroundings
Dimensions: 152 cm wide x 152 cm long x 91 cm tall  /  60″ wide x 60″ long x 36″ tall
COMMERCIAL APPLICATIONS
SOLAR

Large industrial facilities, like solar farms, can have cheaper, faster and better security patrols using autonomous drones.

PORTS

The RAS service monitors accidents and gather information about approaching vessels or ships with sensitive cargos.
CONSTRUCTION

Robotic Aerial Security can monitor and measure construction progress and protect against theft of parts, tools and raw materials.

OIL AND GAS

Autonomous security drones patrol at-risk areas 24 hours a day—securing important perimeters and preventing break-ins.
REMOTE FACILITIES

Buying, installing and maintaining PTZ cameras at remote areas is expensive. RAS is the cheaper, faster and better solution.

PIPELINE

Drone security is an economical for securing pipelines—reducing risks of damage, leaks and theft and protecting people and profits.
CRITICAL INFRASTRUCTURE

Important targets such as bridges, dams and power stations are safer with the perimeter surveillance offered by RAS.

BORDER PATROL

Drones equipped with IR sensors can detect nighttime border activity—turning a porous border into a protected border 24×7.
FIRES, OIL SPILLS, GAS LEAKS

Nightingale security drones can provide your team invaluable situational awareness about dangerous and dynamically unfolding events.

ADDITIONAL APPLICATIONS

Search & Rescue, Crowd Control, Prisons
APPROVED FOR NIGHTTIME AND MULTI-DRONE OPERATIONS
Nightingale Security is proud to be the first Robotic Aerial Security company to receive FAA exemptions allowing both Nighttime and Multi-Drone operations.
With these two exemptions, their autonomous aerial security service allows customers to view, patrol, and protect their facilities in ways never before possible.
Nightingale Security Competes in 2018 'ASTORS' Homeland Security Awards Program
AST focuses on Homeland Security and Public Safety Breaking News, the Newest Initiatives and Hottest Technologies in Physical & IT Security, essential to meeting today's growing security challenges.
The 2018 'ASTORS' Homeland Security Awards Program, is organized to recognize the most distinguished vendors of Physical, IT, Port Security, Law Enforcement, Border Security, First Responders, (Fire, EMT, Military, Support Services Vets, SBA, Medical Tech) as well as the Federal, State, County and Municipal Government Agencies – to acknowledge their outstanding efforts to 'Keep our Nation Secure, One City at a Time.
As an 'ASTORS' competitor, Nightingale will be competing against the industry's leading providers of Innovative Perimeter Protection Systems.
Over 100 distinguished guests from National, State and Local Governments, and Industry Leading Corporate Executives from companies allied to Government, gathered from across North America and the Middle East to be honored from disciplines across the Security Industry in their respective fields which included representatives from:
The Department of Justice

The Security Exchange Commission

State and Municipal Law Enforcement Agencies

Leaders in Private Security
American Security Today will be holding the 2018 'ASTORS' Awards Presentation Luncheon to honor Nominees, Finalists and Winners on November 14, 2018 at ISC East 2018 in New York City.
Good luck to Nightingale on becoming a Winner of the 2018 American Security Today's Homeland Security Awards Program!
For 'ASTORS' Sponsorship Opportunities and More Information on the AST 2018 'ASTORS' Homeland Security Awards Program, please contact Michael Madsen, AST Publisher at: mmadsen@americansecuritytoday.com or call 732.233.8119 (mobile) or 646-450-6027 (office).