Additionally, RAD announced that in partnership with Centralized Vision, active monitoring of gun detection alerts will be offered at no cost for all RAD deployments, subject to terms and conditions to be announced later.
"When Steve, (Steve Reinharz, CEO of AITX and RAD), shared with me that RAD would be extending the use of this analytic for free, we immediately wanted to participate at the most accessible pricing possible – free," explained Tom Vigilante, Founder, and President of Centralized Vision.
"Our staff loves the RAD software and working with their team."
"We're thrilled to participate in activities that could provide significant improvements to clients' safety and security."
"Centralized Vision is our #1 monitoring partner, and Tom's enthusiasm to participate is aligned with our efforts to leverage technology that help make people safer," added Reinharz.
"We truly hope that Centralized Vision never receives an alert, but we know that if they do, we will have shaved minutes off response and thereby hopefully save lives in an active shooter event."
RAD's gun detection identifies the presence of side arms and long gun firearms.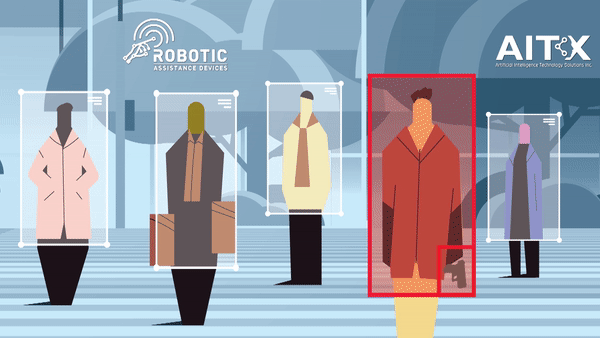 For clients who opt-in, as soon as a gun is identified as such by RAD's AI-driven analytics the system may perform a variety of actions including appropriately activating a local autonomous alert, notifications to remote monitoring or onsite security staff, and appropriate authorities, ideally before any shots are fired.
The alert could be in the form of an audible and visual response on the RAD device, for an immediate response to provide building security and law enforcement precious minutes for rapid response to the situation, mitigating loss of life, injuries, and property losses.
Gun detection will be available on all RAD devices and is backward compatible with RAD devices already deployed. Full details, terms, and conditions will be released publicly in July, and clients will be invited to opt-in beginning in mid-June.
"The gun detection analytic has been on our perception team's roadmap for over a year," continued Reinharz.
"We hope that inclusion of this analytic and monitoring support will encourage more clients to deploy our solutions."
The company's gun detection analytics is just one of the many elements that will be prioritized and managed by the RAD's upcoming 'incident management system'.
The platform will allow RAD dealers to avoid expensive and high-maintenance alarm management solutions and is part of RAD's efforts to rewrite the entire security industry's software library.
"I expect that the acceptance of RAD solutions in certain markets including schools, large gathering events, sports venues, and government facilities will be accelerated because of this gun detection analytic," added Mark Folmer, President of RAD.
"It's our hope that these tools, combined with revised social standards, laws, and government policies can produce a safer society."
RAD devices do not engage in any form of 'crowd-scanning' where specific people can be identified using facial recognition, in favor of Human Attribute Detection (HAD), which allows clients to tag various humans based on clothing and luggage.
Using HAD, for example, RAD devices can refrain from creating alerts when uniformed personnel patrol in stadiums, sports arenas, and concert venues, or for uniformed delivery personnel to be granted easier access to a controlled area.
'ASTORS' Awards Winner Robotic Assistance Devices (RAD), is a high-tech start-up that delivers robotics and artificial intelligence-based solutions that empower organizations to gain new insight, solve complex security challenges, and fuel new business ideas at reduced costs.
RAD developed its advanced security robot technology from the ground up including circuit board design, and base code development. This allows RAD to have complete control over all design elements, performance, quality, and the user's experience of all security robots whether SCOT™, ROSA™, Wally™, Wally HSO™, AVA™, ROAMEO™, or RAD Light My Way™.
For additional information, please visit radsecurity.com. 
American Security Today's Annual 'ASTORS' Awards is the preeminent U.S. Homeland Security Awards Program, and now in its Seventh Year, continues to recognize industry leaders of Physical and Border Security, Cybersecurity, Emergency Preparedness – Management and Response, Law Enforcement, First Responders, as well as federal, state and municipal government agencies in the acknowledgment of their outstanding efforts to Keep our Nation Secure.

Best Motion Detection Solution

ROSA180 is a supplemental security device that includes critical autonomous response capabilities to help simulate security personnel actions at a fraction of the cost.

The device's 180° field of view through dual hi-resolution, full-color, always-on digital cameras provide 24/7 visibility and monitoring.

ROSA180 can also be used to recognize and deter loitering, and the device's built-in continually active analytics can activate security alerts to onsite security or law enforcement, as defined by the end-users particular needs.
(See an illustration of ROSA180, a proven perimeter surveillance superstar for Robotic Assistance Devices (RAD), with its human and vehicle detection analytics and keen ability to detect and deter trespassers, loiterers and vagrants. Courtesy of Robotic Assistance Devices and YouTube.)

Best Robotic Perimeter Protection
ROSA180 comes equipped with RAD's AI-driven security systems including both human and vehicle detection, license plate recognition, and complete integration with the RAD Software suite notification and response library.
Additionally, ROSA180 has stood out as a proven perimeter surveillance superstar with its keen ability to detect and deter trespassers, loiterers, and vagrants, as well as enforce COVID-19 mask requirements in a non-confrontational manner.

ROSA180 houses dual cameras with a combined 180° Field of View that drive its internal AI-analytics to detect any unexpected movement (human or vehicle) then initiate any number of autonomous responses both visual and audible.

The system also opens direct video and audio communication to remote monitoring personal who are able to view and speak with any detected persons.

ROSA180 is a game-changer in the security services industry, allowing a very cost-effective force multiplier in nearly every environment.
The United States was forever changed 20 years ago on September 11th, and we were fortunate to have many of those who responded to those horrific tragedies join us at the 2021 'ASTORS' Awards Luncheon.
In the days that followed 9/11, the critical needs of protecting our country catapulted us into new and innovative ways to secure our homeland – which is how many of the agencies and enterprise organizations that are today 'ASTORS' Awards Champions, came into being.
Our 2021 keynote speaker featured a moving and informative address from TSA Administrator and Vice-Admiral of the United States Coast Guard (Ret), David Pekoske; to our attendees who traveled from across the United States and abroad, on the strategic priorities of the 64,000 member TSA workforce in securing the transportation system, enabling safe, and in many cases, contactless travel.
The continually evolving 'ASTORS' Awards Program will emphasize the trail of Accomplished Women in Leadership in 2022, as well as the Significance and Positive Impact of Advancing Diversity and Inclusion in our Next Generation of Government and Industry Leaders. #MentorshipMatters
So be on the lookout for exciting upcoming announcements of Speakers, Presenters, Book Signing Opportunities, and Attendees at the 2022 'ASTORS' Awards Presentation Luncheon in November of 2022 in New York City!
Nominations are currently being accepted for the 2022 'ASTORS' Homeland Security Awards at

https://americansecuritytoday.com/ast-awards/

.
| | | |
| --- | --- | --- |
| Access Control/ Identification | Personal/Protective Equipment | Law Enforcement Counter Terrorism |
| Perimeter Barrier/ Deterrent System | Interagency Interdiction Operation | Cloud Computing/Storage Solution |
| Facial/IRIS Recognition | Body Worn Video Product | Cyber Security |
| Video Surveillance/VMS | Mobile Technology | Anti-Malware |
| Audio Analytics | Disaster Preparedness | ID Management |
| Thermal/Infrared Camera | Mass Notification System | Fire & Safety |
| Metal/Weapon Detection | Rescue Operations | Critical Infrastructure |
| License Plate Recognition | Detection Products | COVID Innovations |
| Workforce Management | Government Security Programs | And Many Others to Choose From! |
Don't see a Direct Hit for your Product, Agency or Organization?
Submit your category recommendation for consideration to Michael Madsen, AST Publisher at: mmadsen@americansecuritytoday.com.
In 2021 over 200 distinguished guests representing Federal, State and Local Governments, and Industry Leading Corporate Firms gathered from across North America, Europe, and the Middle East to be honored among their peers in their respective fields which included:
Corporate firms, the majority of which return year to year to build upon their record of accomplishment include:
Why American Security Today?
The traditional security marketplace has long been covered by a host of publications putting forward the old school basics to what is Today – a fast-changing security landscape.
American Security Today is uniquely focused on the broader Homeland Security & Public Safety marketplace with over 75,000 readers at the Federal, State, and local levels of government as well as firms allied to the government.
American Security Today brings forward a fresh compelling look and read with our customized digital publications that hold readers' eyes throughout the story with cutting-edge editorial that provides solutions to their challenges.
Harness the Power of the Web – with our 100% Mobile Friendly Publications
AST Digital Publications are distributed to over 75,000 qualified government and homeland security professionals, in federal, state, local, and private security sectors.
'PROTECTING OUR NATION, ONE CITY AT A TIME'
AST Reaches both Private & Public Experts, essential to meeting these new challenges.
Today's new generation of public safety and security experts need real-time knowledge to deal with domestic and international terrorism, lone wolf attacks, unprecedented urban violence, shifts in society, culture, and media bias – making it increasingly difficult for Homeland Security, Law Enforcement, First Responders, Military and Private Security Professionals to implement coordinated security measures to ensure national security and improve public safety.
These experts are from Government at the federal, state, and local level as well as from private firms allied to the government.
AST provides a full plate of topics in our AST Monthly Magazine Editions, AST Website, and AST Daily News Alerts, covering 23 Vital Sectors such as Access Control, Perimeter Protection, Video Surveillance/Analytics, Airport Security, Border Security, CBRNE Detection, Border Security, Ports, Cybersecurity, Networking Security, Encryption, Law Enforcement, First Responders, Campus Security, Security Services, Corporate Facilities, and Emergency Response among others.
AST has Expanded readership into integral Critical Infrastructure audiences such as Protection of Nuclear Facilities, Water Plants & Dams, Bridges & Tunnels, and other potential targets of terrorism.
Other areas of concern include Transportation Hubs, Public Assemblies, Government Facilities, Sporting & Concert Stadiums, our Nation's Schools & Universities, and Commercial Business Destinations – all enticing targets due to the large number of persons and resources clustered together.
(See just a few highlights of American Security Today's 2021 'ASTORS' Awards Presentation Luncheon at ISC East. Courtesy of My Pristine Images and Vimeo.)
To learn more about 'ASTORS' Homeland Security Award Winners solutions, please see the 2021 'ASTORS' CHAMPIONS Edition Fully Interactive Magazine – the Best Products of 2021 'A Year in Review'.
The Annual CHAMPIONS edition includes a review of Annual 'ASTORS' Award Winning products and programs, highlighting key details on many of the winning firm's products and services, including video interviews and more.
It serves as your Go-To Source throughout the year for 'The Best of 2021 Products and Services' endorsed by American Security Today, and can satisfy your agency's and/or organization's most pressing Homeland Security and Public Safety needs.
From Physical Security (Access Control, Critical Infrastructure, Perimeter Protection, and Video Surveillance Cameras and Video Management Systems), to IT Security (Cybersecurity, Encryption, Data Storage, Anti-Malware and Networking Security – Just to name a few), the 2021 'ASTORS' CHAMPIONS EDITION has what you need to Detect, Delay, Respond to, and Mitigate today's real-time threats in our constantly evolving security landscape.
It also includes featured guest editorial pieces from some of the security industry's most respected leaders, and recognized firms in the 2021 'ASTORS' Awards Program.
For a complete list of 2021 'ASTORS' Award Winners, begin HERE.
For more information on All Things American Security Today, as well as the 2021 'ASTORS' Awards Program, please contact Michael Madsen, AST Publisher at mmadsen@americansecuritytoday.com.
AST strives to meet a 3 STAR trustworthiness rating, based on the following criteria:
Provides named sources
Reported by more than one notable outlet
Includes supporting video, direct statements, or photos
Subscribe to the AST Daily News Alert Here.
Learn More…
New Integrated Facility & Campus Safety Application 'RAD Light My Way'